Kitchen & Baths
What We
Will Accomplish
Our planning begins on our first visit to your home, the interview, when we gather all of the information needed to start the design process. We will also measure and document all your walls, doors, windows and trim, gas, water and electrical connections.

Within a few days you will see your initial design showing. in 3D, our "depiction" of your kitchen or bath based on all that you have told us regarding your style preference and practical needs. Your cabinets will be designed and laid out with you, your family, and budget in mind.

We go through the design with you and make all changes necessary to compliment your needs amd fit your budget. We help to accentuate your chosen style. Once we agree on the details and you are ready to start, we get the cabinets ordered and begin pre-construction. We waste no time getting ready for the big day when your cabinets arrive. We want to have "all our ducks in a row" before we begin to dismantle your existing kitchen or other parts of the home. We want start as soon as we can, but not a day too soon.

We use this to define the mechanical and electrical work and get to work on you appliance selections and verify all the requirements. All of these time frames will be shown on your Project Schedule.
1-The First Step
Summarizing the Process
and the Project Plan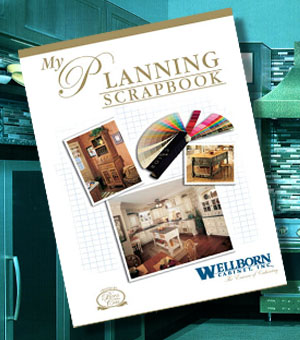 The First Consultation Visit

If you are like most people you started planning your kitchen and/or bath long ago. We will talk about what you like or don't like about your current kitchen, your needs and preferred style option for the new. Our job is to help you move your dreams forward and explore possibilities you never knew existed. We are experts in all aspects of your project and have 40 years of experience as a general contractor and designer. You can count on Kitchen Depictions to apply all of our knowledge and experience in delivering your dream kitchen or bath 100% complete, on time and within your budget.

The first step is to summarize the process. We take a holistic approach to your project. We plan everything, not just cabinets! We will always document with notes, photos, needed measurements and any updates on changes. Wellborn Cabinets provides a Planning Guide that covers every detail and process for greater efficiency and less chance of oversight. We'll show you the amazing choices for your desired style for selection of door styles, finishes, colors and more. Wellborn Cabinets offers a free Planning Guide that completely and efficiently layouts your design choices.

Photo credits: Wellborn Cabinets
2-The First Step
Summarizing the
Project Process
Our Second Visit

We will show you the first draft, 3D layout and functionality of the new kitchen. You make the decision to add, subtract or proceed as is. We will have a budget for you by that time and, with your input, we will get creative and cut back as needed, if needed. Together we finalize the cabinet plans and place the cabinet order. We will require a 50% deposit with the order. The $300 design fee would be waived with the order. This would mark the completion of the 1st phase of services. Your cabinet cost will be a smaller portion of the overall project cost, so you will know all of the project costs prior to authorizing your cabinet order.

There is a lot more to do while the cabinets are being fabricated. You will be picking out tile, stone, paint colors, etc. We will arrange for all the work to be done by our professional subcontractors. We will discuss work area hours to suit your schedule and how to keep you house as undisturbed as possible. We will be there to monitor the removals (demolition), plumbing and electrical rough-in work, flooring, cabinet installation, lighting upgrades, counter tops, carpentry and painting.